On 1 May 2018 ASQA announced that they will be "increasing scrutiny on new applications for registration from 1 July 2018". The regulator has adopted a new process which became effective on 1 July 2018. In this special guest blog, Angela Connell, Chief Executive Officer of Vivacity RTO Coaching & Consulting unpacks the key changes and what they mean for organisations looking to register with ASQA from now on…
The new process for managing Initial registration applications will require that the applicant is ready to deliver quality training, which will begin with their very first interaction with ASQA, at submission of their application to ASQA.
On a positive note, David Garner (ASQA General Manager of Regulatory Operations) stated that "Consultants are an important part of managing compliance", as many new applicants have very little expertise in the Vocational Education and Training sector. He also stated that Consultants have a positive impact on new entrants "if" they are educating the new entrants on how to maintain their ongoing compliance. What ASQA have found in the past though, is that many new applicants are not continuing to use their Consultant to help manage their ongoing compliance following registration. ASQA have found that many new registrations for both RTO and CRICOS are failing their post initial audits. ASQA are concerned that applicants are using consultants to get through registration, with no intention to continue to utilise the services of these consultants to continue to develop their skills and knowledge within the VET Sector.
Vivacity's focus has always been to provide ongoing training and development for all our clients, which is why we offer a range of Membership Packages to assist our clients manage their ongoing compliance.
David stated that "ASQA has no intent of preventing genuine applicants from entering the market", they just want to ensure that the applicants who are successful for registration genuinely want to provide quality education and are willing to learn as much as they can about the VET sector to gain a better understanding of their role and obligations.
RTO Registration Documents
The new process will require that new applicants are required to submit a "Self-Assessment for Registration", at the time of submitting their application for registration through ASQAnet, with the following documents:
Marketing and Recruitment Materials – Formerly submitted with pre-audit documents
Training and Assessment Strategies – Formerly submitted with pre-audit documents
Leasing agreements/venue hire agreements and/or title deeds for locations owned by the applicant – Formerly sighted at audit
Approval from Local Government Authority for "use as an educational facility" (where available in the council area) – This was formally only a requirement in Victoria, but we have seen this recently as a non-compliance in NSW
Floor plans for premises to be used by the applicant – Formally not a requirement, only for CRICOS applicants
Delivery and Assessment Plan or Timetabling document for each delivery location – Formerly submitted with pre-audit documents
List of learning resources and equipment – Formerly submitted with pre-audit documents
A complete list of assessment tools for each training product – Formerly submitted with pre-audit documents
For any units of competency that have been applied for as explicit standalone delivery, copies of all assessment tools to be used – Formally reviewed at audit
Evidence of agreements with Trainers/Assessors to commence employment – Formally not a requirement
Staff matrix for each Trainer and Assessor, including copies of qualifications and their CV – Formerly submitted with pre-audit documents
Copies of qualifications testamurs and statement of attainment templates – Formerly submitted with pre-audit documents
Agreements with third parties – Formerly submitted with pre-audit documents
Strategies for managing third parties – Formally reviewed at audit
CRICOS Registration
The new requirements for CRICOS Registrations are the same as above for RTO Registration, plus:
Documented process and policy for assessing student suitability prior to enrolment – Formerly submitted with pre-audit documents
Pre-enrolment information – Formerly submitted with pre-audit documents
Fee and refund information to students – Formerly submitted with pre-audit documents
Letter of offer template – Formerly submitted with pre-audit documents
Information to be provided to students as part of the orientation program – Formerly reviewed at audit
Documented processes for supporting student during their study for online distant components – Formerly reviewed at audit
Student information on how to report a critical incident – Formerly reviewed at audit
Policies, processes and mechanisms to be implemented for managing and monitoring course progress of students – Formerly submitted with pre-audit documents
Copies of written agreements with Education Agents – Formerly submitted with pre-audit documents
Documented process for managing students under the age of 18 – Formerly submitted with pre-audit documents
Financial Viability Requirements
There are a number of changes with the Financial Viability requirements, which will also need to be submitted to ASQA at the time of submitting the initial application, for both new applicants or an existing RTO/CRICOS provider applying for RTO or CRICOS registration in addition to their current registration. The assessment informs a judgment about whether the organisation has the financial resources necessary to:
Acquire the requisite assets and physical resources to deliver all qualifications on its scope of registration
Employ sufficient appropriately qualified staff to cover the courses for which it takes enrolments
Provide appropriate levels of student services to students
Remain in business to ensure that each student can achieve completion
Meet the above requirements, even in an unsure environment.
(You can read more about the Financial Viability requirements here.)
In addition to the previous Financial Viability requirements, applicants are now required to demonstrate Non-Financial Metrics, which include: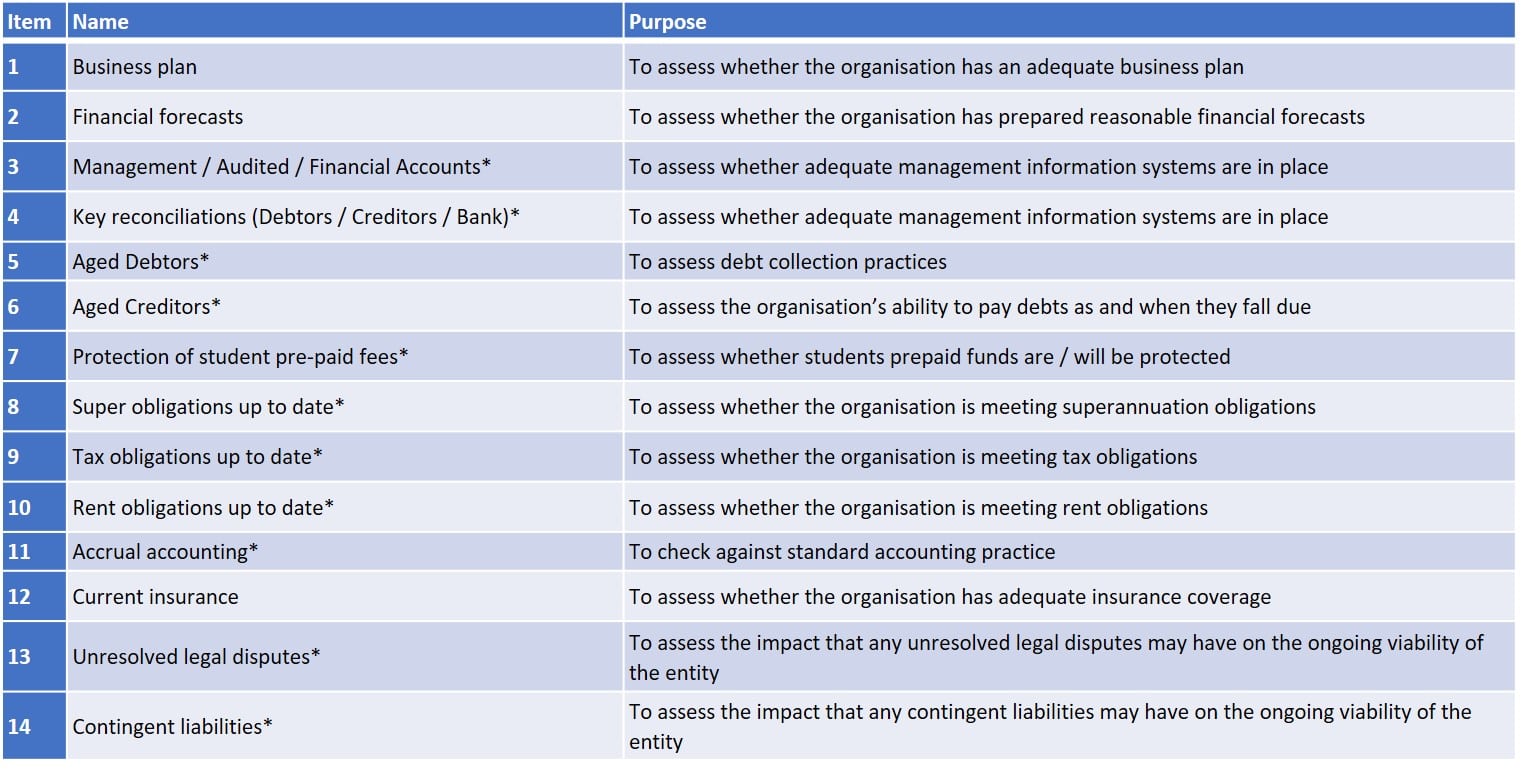 *These items are new requirements
Any application whereby Financial Viability is not satisfactory, applicants will not be able to proceed to submission to ASQA.
Further Process Changes
There are also new changes with the completion of the Fit and Proper Person (FPP) form (whereby everyone listed on the ASIC Historical Statement, CEO's and PEOs are required to complete a FPP form) will also be required to declare whether they have any "Related Persons" (family members) who are, or have previously been, involved in the operations of an RTO or a CRICOS provider.
One of the new requirements for new applicants is that they will not be able to change any of the following once they have submitted their application to ASQA:
Scope, or
Location, or
Key personnel
Providing that the initial documents submitted to ASQA are compliant, ASQA will then conduct a site audit, which means that new applicants will be required to be better prepared before submitting their application to ASQA.
Successful Applications, Rectification and Reconsideration
From 1 July 2018 there will be no rectification process, but there will be a reconsideration process, which attracts a fee from ASQA. New registrations will be registered for a two-year period and if any provider seeks to extend their scope within that two-year period, they will be subjected to a site audit and will be required to complete a new Financial Viability Assessment as well as complete a new Self-Assessment Form.
Every provider under the new process will be required to submit a Registration Renewal Application at the end of the two-year period. A focus will be these RTOs will need to demonstrate that they have provided quality training within the last two years. If the RTO applying for re-registration have not delivered any training, they will be deemed non-compliant and may not be granted re-registration.
Current providers who have been registered for less than two years, will be required to comply with the new requirements including completing a Financial Viability assessment and a Self-Assessment form, prior to submitting an addition to scope application.
If you are currently an RTO who applies for CRICOS, you will be required to submit an application under the new process.
For more information on the new changes, go to: https://www.asqa.gov.au/news-publications/news/asqa-increasing-scrutiny-new-applications-registration-1-july-2018
—
If you would like to learn more about the new registration process or require support for your initial application, be sure to contact Angela Connell and the team at Vivacity.

This blog was originally published here.